UN-CHARTING, 2023 - Ongoing
Un-Charting

is an ongoing multi-media project consisting of two parts: an immersive 3D animated documentary film and a platform for collaboratively developed public programming. Upon entering the work, visitors walk on an enlarged unrealized 19-century British urban plan for a New Jerusalem. This space is dedicated to the public programs (whose content and titles change). From there, they enter a simulator room, where the 17-minute highly saturated film is presented on a 180-degree curved screen. Through the layering of historical sources and contemporary documentary footage, the simulator film (whose title, Un-Charting, is used by the project as a whole) critically examines the ideological imbrication – past and present – of conservative American Evangelism, British imperialism, and Zionism. Centered on religious and political constructions of the "Promised Land," the project  investigates how messianic myths travel across time and geography, manifesting in colonial violence and attempts at indigenous erasure . The public programming carves out a space for countering settler-colonial narratives while radically imagining ourselves into equitable worlds beyond destructive myths. Combined, the two elements of the work address the global effects of imperial and colonial imagination, asking viewers to reflect on the ongoing implications of Western territorial conquest, occupation, partitions, imperial cartography – and, especially, on the role that instrumentalized theological fantasies play in actual state sanctioned violence.

 Un-Charting

was recently on view at the James Gallery CUNY Graduate Center, NYC (March 9th-June 4th, 2023).
UN-CHARTING,
simulator film  & archive
The simulator film

Un-Charting

is, at core, a documentary. Approaching the genre critically, the 17-minute film weaves narrated 19th-century documents together with interviews and footage that I began recording in 2017. These sources are displayed in annotated museum cases that are encountered by viewers before they enter the immersive 180-degree video installation, informing the experience of a film that appropriates science fiction aesthetics with precise historical context. By combining the seemingly contradictory forms, the project addresses the crucial role of speculative fiction in the perpetration of settler-colonial harm and investigates the spectrum of political imagination. 
The unrealised urban plan for a New Jerusalem at the heart of

Un-Charting

was designed in 1805 by Richard Brothers, a British colonial naval officer and self-proclaimed Christian prophet, who was born in 1757 in the British settlement of Newfoundland on Inuit Nunangat land. Brothers created his master plan from London, having never stepped foot in historical Palestine. His plan flattens the actual site, making way for his vision of a perfectly ordered, theologically derived, grid. In the simulator film, Brothers' prophecies are interwoven with contemporary interviews that I conducted with an Israeli choreographer and an American church organizer. The two women have been working together since the 1970s, sending youth from an Evangelical community in Colorado to dance for Israeli soldiers. The troupe performs Israeli folk dances costumed in imagined Israeli garb, including military uniforms.

Un-Charting

relocates footage of the American teens' Israeli Soldier Dance inside a 3-D animated rendering of Brothers' imagined street plan for Jerusalem. 
Un-Charting

's simulator film takes viewers on a journey that weaves together real and imagined spaces from throughout the Middle East and on both sides of the Atlantic, critically investigating the entanglements between Zionist colonialism in Palestine and European colonization in the so-called New World. The large curved screen mimics simulators used in military training and gaming technologies, placing spectators in the chilling eye of the storm of an ideological state apparatus. Experienced from a first-person point of view, the camera movements reveal a highly saturated 3D-rendered dystopian landscape that grows from Brother's map. The embodied "push and pull" experience inside the simulator raises questions about the individual's place within broader systems of oppression and challenges viewers to disrupt the cartography of place-based myths.
Simulator Film by Tali Keren Main Credits:
Artist and director: Tali Keren
3D art | design | compositing | animation: Ayelet Shoval
Script and development: Tali Keren, Nir Shauloff
Documentary interviews archival research: Tali Keren
Dramaturgy: Nir Shauloff
Voice Actress: Lottie Beck Johnson
Sound Design & Mixing Engineer: Micha Gilad
Cinematographer: Or Flicher

UN-CHARTING, Public Programs. 
Key to

Un-Charting

are public programs that take place on top of – and actively unsettle and counter – Brothers' map of his envisioned New Jerusalem. These programs are created collaboratively with organizations, scholars, artists and activists, and reflected on local and global themes relating to the exhibition from an intersectional lens.  At the James Gallery, public programs were created in partnership with curator Adam HajYahia's "Footnotes On The Fictive Present," curator Katherine Carl, New Red Order & Kite, and with CUNY's Middle East and Middle Eastern American Center (MEMEAC). These gatherings are aimed at creating a site of gathering and collective knowledge production, grounded in a de colonial framework. The programs included talks, performances and screenings which foreground the emancipatory possibilities of political imagination, through experimental pedagogy, conversations, and artistic experimentation.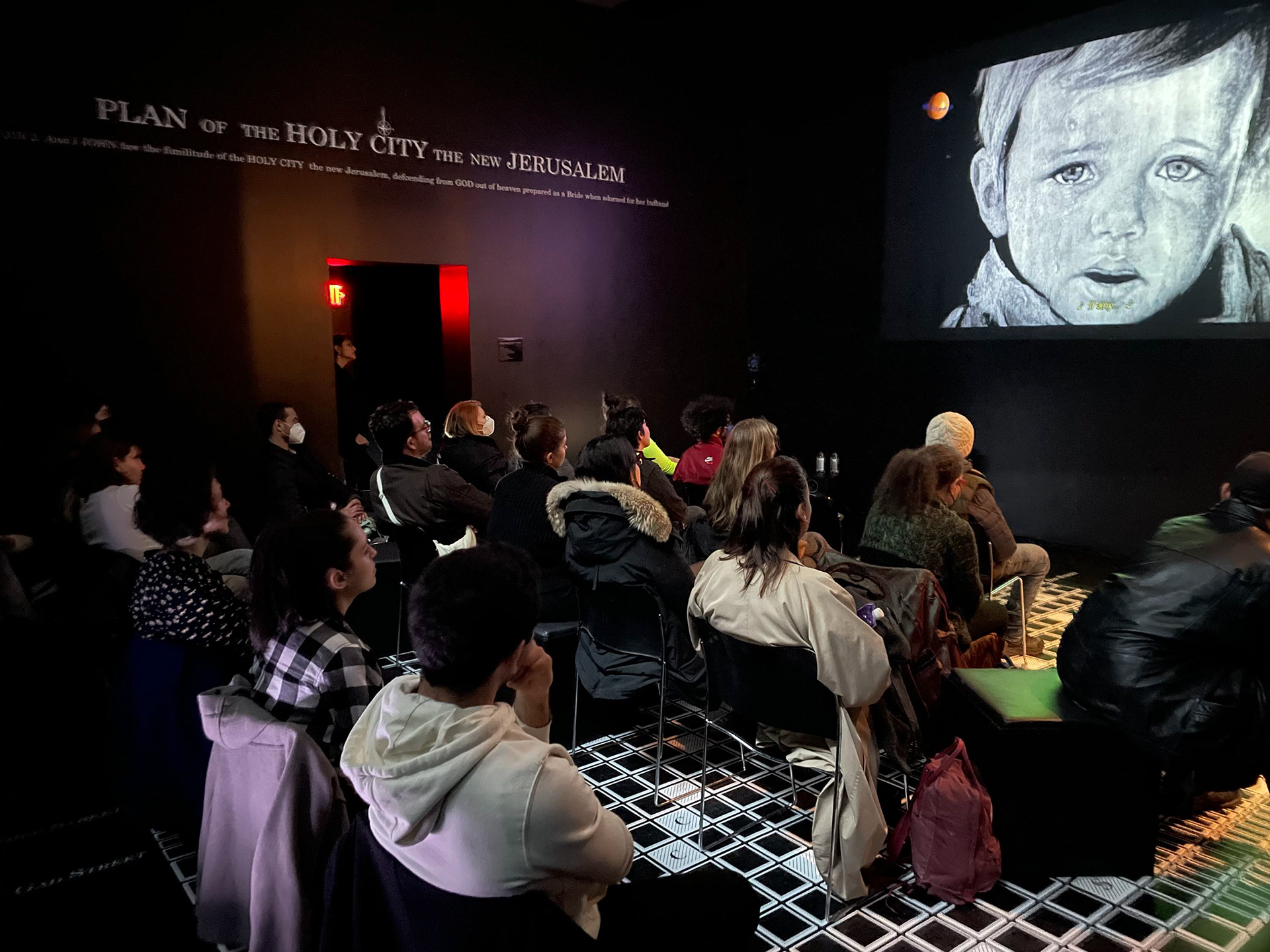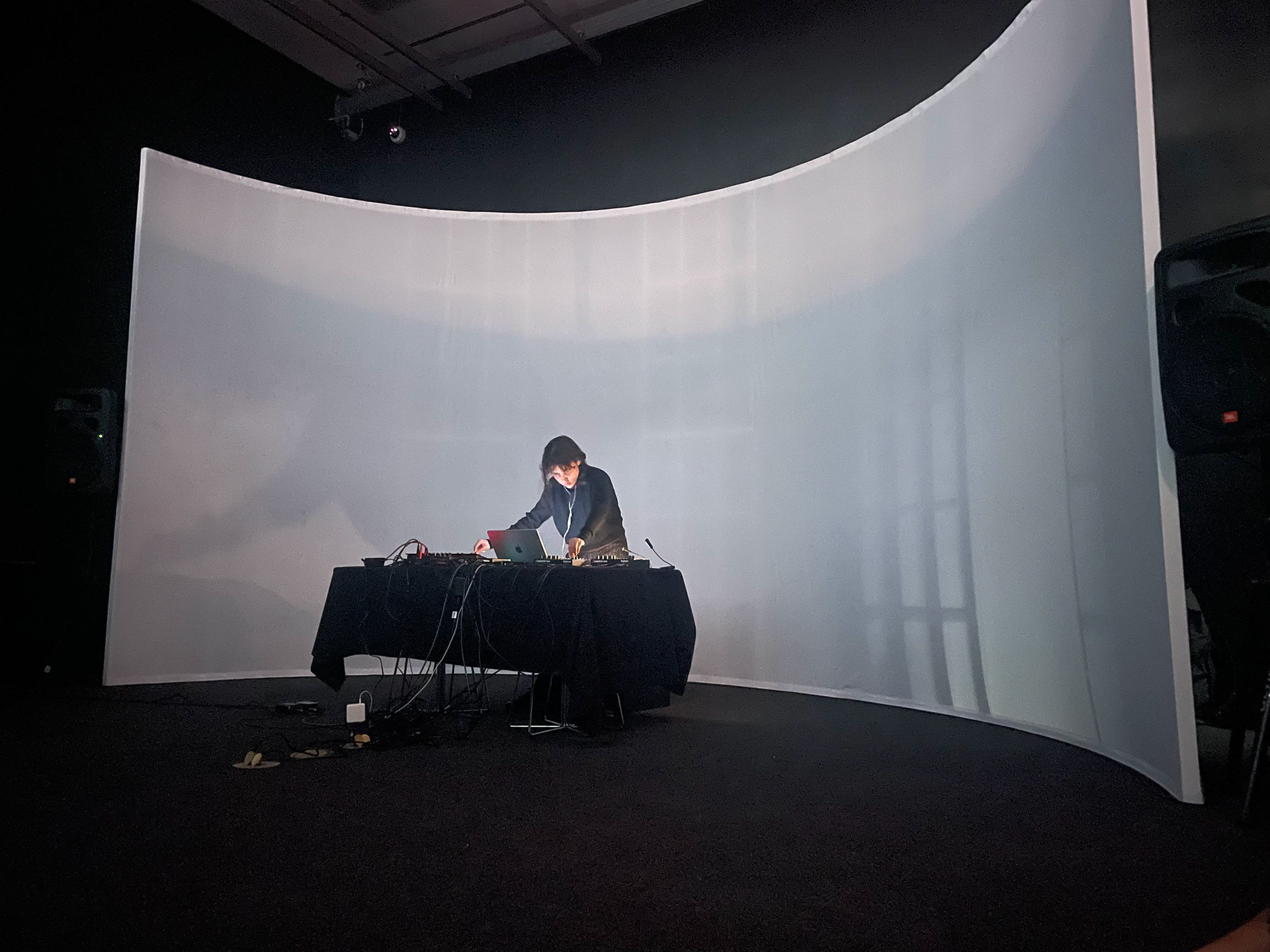 _________________________________
Re

Mergers
 a site specific performance by artists New Red Order x Kite. 
_________________________________
_________________________________