UN-CHARTING, 2021-2023

Currently on view at the James Gallery, CUNY Graduate Center through June 4th.

Un-Charting is the third chapter in Tali Keren's trilogy which critically examines the material and ideological imbrication, both past and present, between conservative American Christian Evangelicals, and Zionism. Through layering of 18th-century sources and contemporary documentary materials, Un-Charting reveals the ways messianic myths travel across time and geography, manifesting in colonial state-sanctioned violence and erasure in Palestine and beyond. With its extensive collaborative public programs, the project carves a space for countering and dismantling these narratives and structures, while radically imagining ourselves into equitable worlds beyond destructive myth.

All the materials presented in the 3D animation simulator film at the heart of Un-Charting are drawn directly from historical documents, interviews, and footage recorded by the artist. Un-Charting presents the words, ideas, and architectural plan of British colonial naval officer and self-proclaimed prophet Richard Brothers (born in the British settlement of Newfoundland in the Inuit Nunangat lands, 1757), along with contemporary interviews Keren conducted with a Jewish Israeli choreographer and an American Christian Zionist Evangelical. The two women have, since the 1970s, been sending American Evangelical youth to perform for Israeli soldiers. The American troupe performs Israeli folk dances dressed in various "traditional" garb, including Israeli military uniforms. Keren incorporates footage she filmed on a soundstage in Colorado of the troupe and places it within a video-game-like environment on Brother's imagined colonial map of Jerusalem a place he imagined in details but never.

Un-Charting consits of three parts:

Reseach materials
The Resource Room presents research materials and documentary sources used in the film as well as additional reading materials and programming information.


Simulator Film
The simulator film at the heart of the project is projected on a 180-degree screen in a Simulator Room. It combines the documentary and historical materials presented in the Resource Room, culminating in an immersive cinematic 3D animated world of militarized settler-colonial mythologies. Viewers are placed in the eye of the storm of an ideological state apparatus and invited to reflect on the crucial role that myth, ideological rhetoric, and instrumentalized theologies play in actual state violence and erasure of people and culture on both sides of the Atlantic.






The New Jerusalem Plan
A crucial part of the project includes activations, talks, workshops and performances. Upon entering the installation visitors step on an enlargement of Richard Brothers' unrealized 1801 urban plan for a New Jerusalem, a place he imagined in detail, having never set foot in Palestine. Brothers' plan, which is laid clearly in his book Description of Jerusalem, flattens and wipes away the real place, making way for his Biblical vision of a utopian ordered grid. During the exhibition, this space serves as a forum of interventions, talks, performances, and screenings, which challenge and counter such colonialist imagery. The programs are created in partnerships including curator Adam HajYahia's

"Footnotes On The Fictive Present,

" New Red Order x Kite, and a series of talks with The Middle East and Middle Eastern American Center.




Un-Charting: documentation from selected programs.
More infomation is available

here

at the James Gallery's website.
Growing Beloved Community: Restorative Justice Gathering.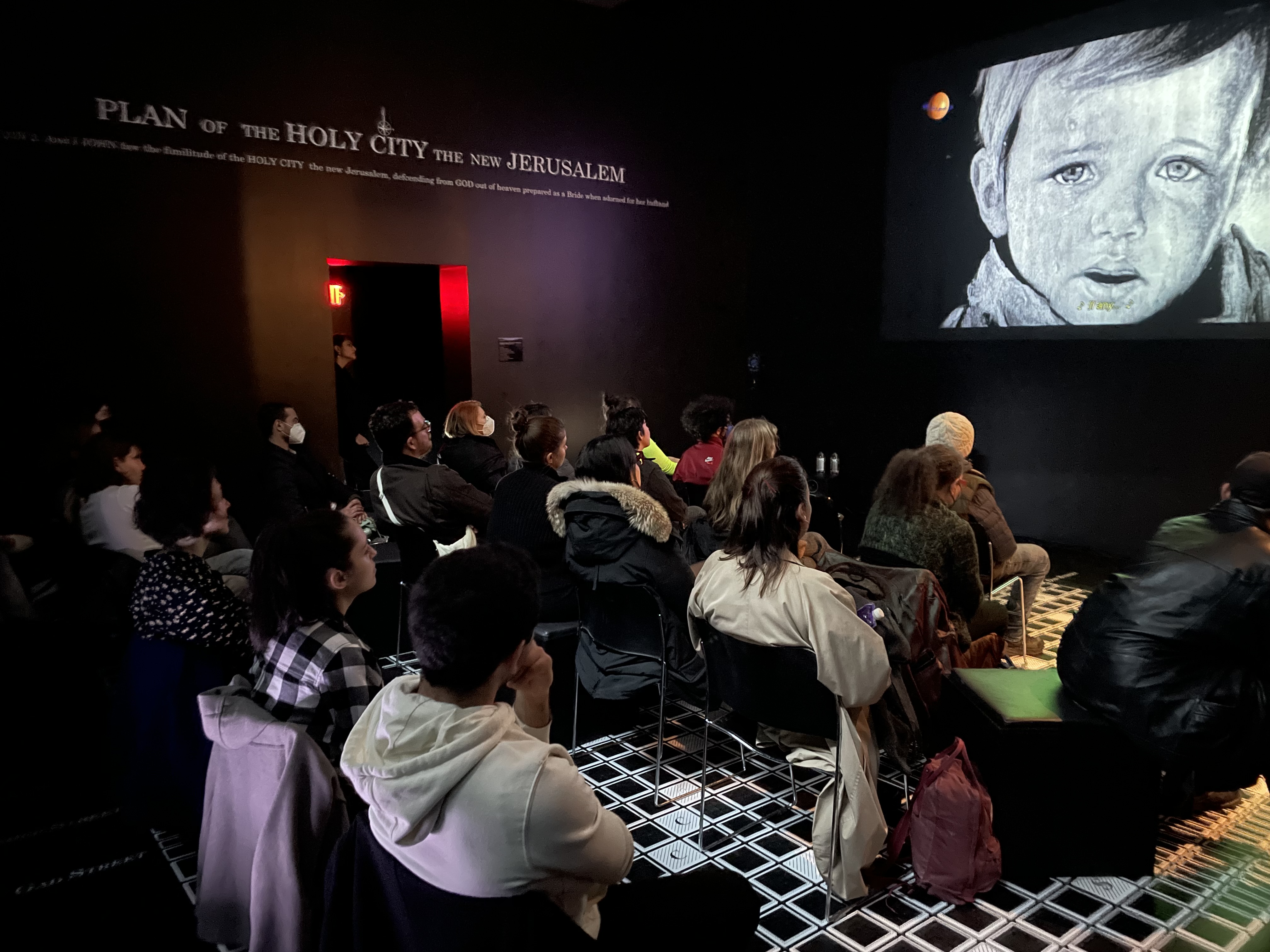 Charting the Archive: Kamau Ware in conversation with Jennifer Jones
Movement In Today's Iraq" orgenised by MEMEAC

Dream Riots Musical Performance with Bergsonist and Gavilán Rayna Russom (event information

here.

) Part of Adam HajYahia'a

Simulator Film by Tali Keren Main Credits:
Artist and director: Tali Keren
3D art | design | compositing | animation: Ayelet Shoval
Script and development: Tali Keren, Nir Shauloff
Documentary interviews archival research: Tali Keren
Dramaturgy: Nir Shauloff
Voice Actress: Lottie Beck Johnson
Sound Design & Mixing Engineer: Micha Gilad
Cinematographer: Or Flicher
-----------------------------------------------



---